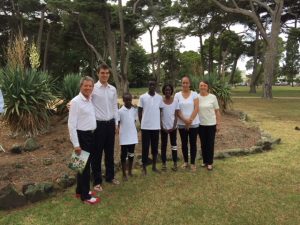 Any day is a beautiful day for baptisms, but the late Sabbath afternoon at Williamstown beach in March, with the soft autumnal sun treating us kindly, was a truly blessed occasion; significantly, it was a balmy day with a light breeze moving peacefully over the water, reminding us of the presence of the Holy Spirit in our lives.
Before the baptisms (there were five eager candidates), we held a service in the Williamstown Botanic Gardens (with the warmth ensuring that its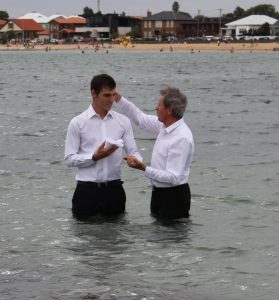 flowers were still in full bloom), presided over by Pr Nick and Pr Danijela, accompanied by singing and prayer, specifically for our candidates but also as a reminder to all of us of rebirth in Christ, symbolised by our own baptisms. Undoubtedly, many who were not baptised must have been moved to consider their own preparedness for such a life-transforming decision.
To witness this joyful event, an incredible number of brothers and sisters from various churches attended the ceremony, making for a vibrant throng of believers of all ages who attracted the attention of the beach-goers enjoying the idyllic conditions.
When the candidates, Akuol, Alakier, Deng, Sarah and Andre were baptised in the shallows Impossible to distinguish between the Adventists and the general public who paused to witness this significant event, it was as though the whole of the beach, along with the angels in Heaven, gazed in wonder at these rebirths taking place at a slight distance from the shore. Perhaps, at least for a few moments, these beach-goers reflected on their own lives, andstood, along with us, in awe of the Creator of the universe that gave us the breath of life.
After the baptisms, the congregation, along with the Point Cook Community Church candidates, had a picnic dinner in the Williamstown Botanic Gardens, a beautifully fitting setting for the beginning of each candidate's spiritual journey.
Robert Bryson