AdventCare Whitehorse
163-165 Central Road
Nunawading (Gate 1)
Telephone: (03) 9259 2000
Fax:  (03) 9894 2609
AdventCare Bendigo
392 High Street,
Bendigo
Telephone: (03) 5443 7999
Fax (03) 5443 7988
AdventCare Yarra Ranges
5 Woods Point Road,
Warburton
Telephone:  (03) 5966 4400
Fax (03) 5966 4455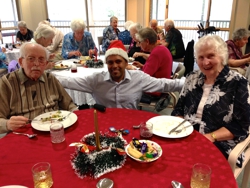 Considering Aged Care?
Are you considering aged care for yourself, or a loved one?  There are many questions and opinions relating to how aged care should be run, particularly in areas relating to finance and funding.
This page has been prepared to help answer some of the questions you may have.
For a further explanation and advice please feel free to contact any of our AdventCare sites:
Phone: 1300 128 628 | email info@adventcare.org.au
Or you can visit our website (currently under review).
Aged Care Reforms – What it means for you!
Change is inevitable in this life and the funding of residential aged care is no exception!  With the Federal Government providing 65-70% of our funding there are always changes being made to try to refine the way aged care is funded.
Just when you were familiar with the system the Government brought in a significant change with the Aged Care Reforms taking effect from 1 July 2014.
So what is new, what has changed?
In some ways not much has changed.  You can still gain access to our residential services in Nunawading, Bendigo and Warburton with the majority of the cost of your care funded by the Government.
The key features of the new system can be summarised below:
There is now no high care or low care distinction upon admission; all beds are general aged care beds.  This removes some of the differences in funding between the two types of care.
The main Government funding relates to the ACFI funding system that is based on your care needs and this is unchanged.
All aged care facilities now have to price each type of resident room (similar to a hotel) and these prices are now published on our website and on the Government's MyAgedCare website.
Residents pay a daily care fee (the same for all), a capital or periodic payment and a means tested fee (based on your income and assets).  The principles are the same as before, but have been simplified into one system for all.
Be assured that for people with limited assets you can also seek care at AdventCare and the Government pays an extra subsidy for your care.
We can assist you to gain a better understanding of the funding system and what choice is best for you.  Where your financial affairs are more complex you can seek help from a specialist aged care financial planner to smooth the admission to residential care at AdventCare.  So be assured that there is a path through the maze and we will guide you along the way.
What is new at AdventCare?
Stay tuned for our new and upgraded website that will showcase our facilities and provide you and your family with loads of useful information.  You can still find us at the above address, but we are currently swapping the old Kingswood for the latest Commodore and will invite you to test drive it in a few months!
Expanded Dementia Services
We have added some more beds and are upgrading others to create a dedicated 38 bed Dementia Unit at AdventCare Whitehorse in Nunawading.  The last of the rooms will be finished in December 2014 and we can then offer you more choice in dementia care at AdventCare.
Bendigo Upgrade
The paint is dry and the pictures rehung on the walls at AdventCare Bendigo where a significant building upgrade has been underway.  The corridors and all resident living areas have been painted, new dining chairs purchased and resident rooms remodelled to meet the care needs of the community.
There are a number of limited vacancies at present and we invite you to tour the home and see the changes for yourself.  Admissions are now open, so come along and talk to us about how we can support you.
David Reece
Acting CEO
AdventCare